Where it began
Sometimes big ideas take years to come to fruition. Other times a single chance meeting sparks

an idea that changes everything

.
While we may not have realized it at the time, the founding of The Arcady Group was both. Looking back, it's clear that so many of our corporate experiences were preparing us for the work we do today. Yet, it all clicked when Bruce had a beer in a Princeton pub with Peter Small, who, at the time, worked for the Bill & Melinda Gates Foundation. Bruce shared the work that he and his MWV team did to enable Walmart's high-volume, $4 generic drug program. Peter asked a lot of questions about our process and the impact of the program, which he followed with "do you think you could do it again?" He wanted to know if the development, scale up, and measurement process we followed for Walmart could be replicated to bring global health innovations to bear for patients who need them most. Of course the answer was "yes," and we've been on this mission ever since.
Our work with Walmart
In 2009 when working for MWV (now Westrock), we were named "Supplier of the Year" by Walmart. But achieving that distinction didn't happen overnight. It took years of designing, testing, researching, educating, and ultimately scaling a new way of delivering affordable medications in a way that helped patients adhere (to take them as prescribed).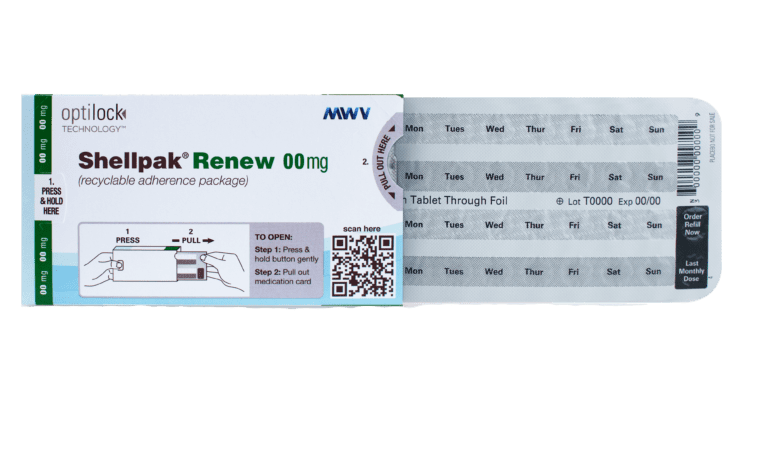 The Challenge
When Walmart introduced their famous $4 generic program, they posed to us three significant challenges:
How can we fill the huge number of additional prescriptions the program is likely to generate?
How can we make margins at this extremely low price?
How can we include with each prescription something that will help patients adhere?
Options on the table included hiring more pharmacists (too expensive and no physical space available) or installing automation (too much capital investment and depersonalization of the pharmacist-patient relationship). And neither solution did anything to address medication adherence.
The Solution
Reinvent Walmart's entire supply chain, beginning with what Walmart pharmacists give to Walmart patients.
The adherence problem for patients and the pharmacist efficiency issue were caused by the way medications were dispensed in the USA – loose fill in amber vials. Terrible for patients and labor intensive for pharmacists! We changed that with Shellpak, a highly scalable, super affordable, child-resistant calendared package – essentially a "bottle for medication blister." It arrived at Walmart pharmacies pre-packaged, so instead of counting and packaging pills, pharmacists could spend time counseling patients. To do that, however, and with support from Walmart Health and Wellness, we changed everything upstream and down in Walmart's supply chain.
We changed manufacturers, moving to global generic manufacturers
We shifted units, moving from 1000 count bottles to huge barrels of pills
We purchased an FDA-certified repackaging facility to do large scale medication blistering
Our team designed new incredibly high speed medication blistering machines to handle the massive volume
We reconfigured Walmart's distribution centers to accommodate hundreds of millions of ready-to-dispense Shellpak's
The team supported effective communications to Walmart pharmacists and patients about this transformational new way of delivering medications
The Impact
At the peak of the program, Walmart pharmacists dispensed more than 350 million Shellpaks per year. Walmart did not have to dramatically increase pharmacist staff. Walmart made good margins at $4 per prescription filled. Walmart grew market share dramatically. AND, patients were significantly more adherent. Patients receiving medication in Shellpak better adhered to their regimens than those receiving the same medication in a standard bottle. The results of this study were published in Clinical Therapeutics. Novartis began using Shellpak for their blockbuster cardiovascular medication, Diovan and saw even more impressive results. Better patient adherence to chronic medications has been shown to improve health and reduce total healthcare costs.
Applying our experience today
No story better explains who we are and how we work. We begin with the end in mind. We aren't afraid of huge challenges. We think end to end – transforming systems and making things work at massive scale. And all with the goal to make lots and lots of patient's lives better.
Recent News & Insights
Sharing our learnings to

accelerate your journey

.