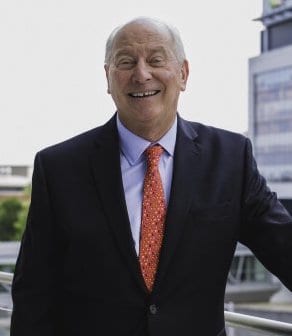 VCU Medicines for All Institute
B. Frank Gupton, Ph.D.
B. Frank Gupton, Ph.D., is an internationally recognized scholar and industry expert. After attending the University of Richmond on a basketball scholarship, he received his master's degree from Georgia Tech. He earned his doctorate in chemistry at Virginia Commonwealth University.
His 31-year industry career included senior positions with the Hoechst-Celanese Corporation and Boehringer-Ingelheim. In 2007, Gupton retired as executive director of process development for Boehringer-Ingelheim Pharmaceuticals.
Gupton then joined the VCU College of Engineering faculty and became the Floyd D. Gottwald Junior Chair in Pharmaceutical Engineering in 2016. His research focuses on improving global health care by making pharmaceutical production cleaner and more cost-effective. To help advance these goals, he founded the Medicines for All Institute (M4ALL) with a simple idea: expand global access to lifesaving medications by producing them more efficiently.
An inventor on multiple patents, including one for his work to produce nanoparticle catalysts supported on graphene, Gupton is a National Academy of Inventors Fellow. He received the Billy R. Martin Award for Innovation in 2017.
For his efforts with M4ALL to develop cost-saving methods to produce the anti-HIV drug nevirapine, he won the 2019 Peter J. Dunn Award from the American Chemical Society (ACS). For that work, he and M4ALL chief technology officer D. Tyler McQuade, Ph.D., also won the 2018 ACS Green Chemistry Challenge Award and the 2018 ACS Award for Affordable Green Chemistry. The institute is working with a manufacturer in South Africa and partnering with the government of Ivory Coast to bring these advances to the places they are most needed.